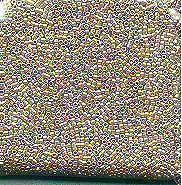 Item# DB-100-Miyuki Delicas.
These beads cost a little more than others, but they are more than worth it!
Besides having large holes, these beads are perfectly uniform and give spectacular results. In weaving, they give a beautifully flat texture, as shown in the photo below.
10 gram packages- from $3.00 for opaque & transparent up to
$13.00 for 22kt gold and some other metals.





Item# SB-101-Matsuno seed beads- size 11/0.
These beads have large holes like other Japanese seed beads, but give a more textured, non-uniform finish. Great for stringing or loomwork.
Available in over 200 colors, and in opaque,matte,ceylon,siver-lined,silky,metallic and transparent.
40 gram package- from $2.50 for opaque & transparent up to
$5.00 for iris beads