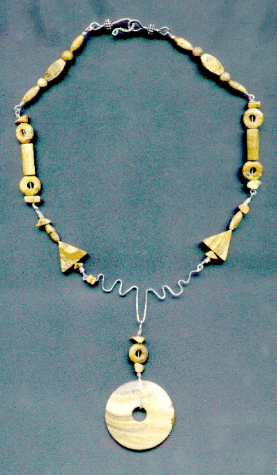 Item #0111-
Sterling Silver wire necklace with Picture Jasper Stones. This piece has stones in many shapes and sizes and is finished with an imported Bali Sterling silver clasp. It is available in many different stones. Each necklace will be unique. Contact us with any special requests.
Item # 0111- $25.00



Item # 0203- Rose Quartz & Lampwork Necklace w/ Pink Pearl Clasp-
This unique necklace is strung with rose quartz rounds, lampworked beads and spacers and features a handcrafted Sterling Silver clasp with an inlaid pale pink pearl. Although the scan can't pick it up, the pearl is just a bit darker than the rose quartz-a lovely pastel shade!
This one-of-a-kind creation can be matched with a bracelet or earrings-call for details.
Don't miss out on this Diva Original-these lampworked beads won't last long and when they're gone, they're gone!
Item # 0203- $40.00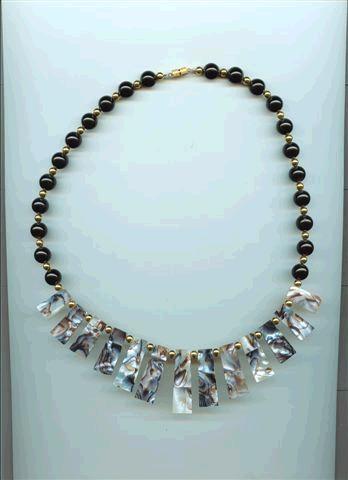 Item # 0204- Black Oynx Necklace w/ Black Agate fan-
This whimsical piece features Black Onyx rounds and a Black Agate fan interspersed with Gold-plated brass beads and finished with an ultra-strong gold-plated magetic clasp.
Very fun-will work with formal or casual wear. Terrific!
Item # 0204- $28.00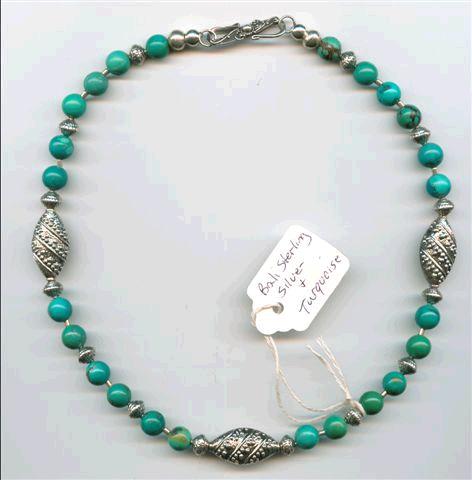 Item # 0205- Turquoise and Oval Bali Bead Necklace-
Yet another extremely versatile piece from Lady Orchid! Featuring GIGANTIC 24mm long oval Bali sterling silver beads. spacers and clasp which perfectly accent the turquoise rounds. Turquoise and silver are perfect mates. I personally wear many variations of this necklace almost on a daily basis. It works with everything! Available in choker to 17" lengths. Call for matching bracelet or earrings.
Item # 0205- $35.00