Item# 0101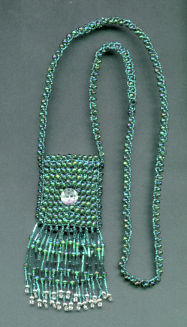 This amulet pouch is made from 4000 Japanese & Czech seed beads, as well as sterling silver beads. It is 100% beads. The strap is an intricate weaving which almost looks like tiny flowers. It is finished with a vintage French crystal button and hangs 18" long, including the fringe.
The photos in no way show the absolute glittering beauty and detail of this piece!
You'll be very surprised at the sturdiness, weight and luster of this gorgeous pouch!
This item is made in transparent green lustre. The other colors seen are the light reflecting, giving it a multi-colored look.
This item can be made in almost any color you wish and with any kind of button and fringe, such as precious stones, abalone, pearl, metal, etc. Just use our "contact us" link and let us know what you would like
Price: $25.00 *
*Prices may be higher for custom pieces containing precious stones or gems.